Brazen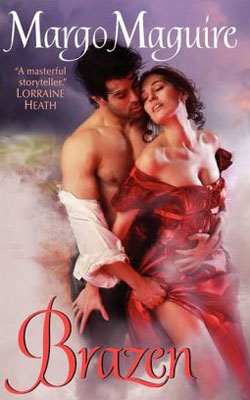 Book Five: Regency Flings
She will give him what he desires. But first, a small favor…
Lady Christina Fairhaven is devoted to her adoptive family–and most protective of her wayward brother.
So when battle-scarred and world-weary Captain Gavin Briggs arrives at her cottage bearing shocking news–that she is the granddaughter of an aged, bad-tempered duke–Christina is stunned … temporarily.
She will not meet the duke who abandoned her when she was a child; Gavin will not receive his significant –and much needed– reward. However,should the good Captain agree to help her locate and rescue her endangered sibling, then perhaps…
But with a fortune at stake,the road to London is paved withperil. Treachery awaits them … not to mention attraction, temptation,and a most unanticipated passion.
To regain his soul, to protect his lady, Gavin must be more than brave.To win his love, Christina must be positively…