Excerpt: The Highlander's Desire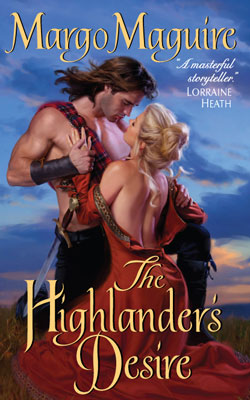 Book Two: The Highland Brothers
On the Isle of Kilgorra.
The massive brigantine sailed into Kilgorra's harbor and tied up at Kilgorra's pier just as Anna MacIver rowed her curragh to the far end of the pier. She could see that this was no trading vessel.
As its crew lowered the plank, Anna could only gape in awe at the first man to disembark. With his regal bearing and aura of command, the highlander could only be Lachann MacMillan.
And he'd arrived a full day too early.
Anna did not think she'd ever seen a finer specimen of highland might. Tall and dark haired, his shoulders were broad and muscular, his legs as sturdy as tree trunks. The angle of his jaw was entirely uncompromising, but his lips were full and… interesting. Unlike the rest of him, they were not the least bit rigid.
Anna's heart thrilled at the sight of him, but she quickly tamped down any excitement she might feel. For what business did she have, gaping at the young man from Braemore? He had certainly not come to meet her.
Which was just as well. The last thing Anna needed was a man… a husband. Her mother, Sigrid, had had two of them, and where had her marriages gotten her?
To a home far away from her family and everything she'dknown in the Norse country, married to a Scottish husband who'd died, leaving her with naught but a wee daughter to care for. And then a second husband, the laird of Kilgorra,whom she'd met and fallen in love with when he'd visited Kearvaig soon after Anna's father's death.
Sigrid had returned to Kilgorra with Laird MacDuffie andhad soon gotten with child. But when both Sigrid and the bairn had died,MacDuffie had forgotten all about his stepdaughter. For the past fifteen years, Anna had been left to her own devices on Laird MacDuffie's island home, serving her mother's widower and stepdaughter according to their whims.
Anna made do, for what choice did she have? She did her work and escaped whenever she could to her own wee isle across the narrow straits off the Kilgorra coast. Luckily, 'twas a mountainous, forbidding place that no one cared to visit – especially not when Gudrun, the Norse maid who'd come to Scotland with Anna's mother – had let it be known the place was beset by a fearful sluagh dubh, a dangerous, malevolent spirit.
To Anna's knowledge, there was no sluagh dubh on Spirit Isle, but the wary Kilgorrans believed it. And they all believed Anna and Gudrun had some method to keep the terrible spirit at bay.
True or not, the tale suited her well.
Anna tied her curragh to a post on the pier and stepped out of the small boat. She would have stayed on Spirit Isle longer on this bonny morn but for MacMillan's visit. He had not been expected to arrive until the morrow, and Anna knew there would be hell to pay when her stepsister Catriona realized he was already there and Kilgorra Keep was not fully prepared.
At least she and the other servants had already cleaned the bedchambers that were to be used by the men from Braemore, sweeping out the old rushes, washing the floors, putting fresh linens on the beds, and laying fires in the grates. Shehad directed Alex and Graeme to prepare the barracks where the laird's warriors would reside, so there could be no complaint there.
Anna reached for the basket of berries she'd picked on the isle, but the familiar sharp wail of a wee bairn caused her to turn and look for the infant's mother, her very dearest friend. Kyla Ramsay staggered toward Anna, her face and arms bruised and bloody. It looked as though she was about to faint.
Anna quickly took the child from Kyla's arms. She was about to ease her friend down to the curragh when there was a rush of footsteps, and then a pair of brawny arms caught Kyla and cradled her against his chest with ease.
"Where's the best place to take her?" the highlander asked, his voice deep and rich. "The public house?"
"No!" Anna cried. For Birk might well be there, drunk and mean and ready to do further damage to his wife. "Ah, no, sir …" she said more calmly. "If you would carry her just there…"
Holding Kyla's bairn, she led Lachann MacMillan to Janet Carnegie's cottage, some distance from both the public house and the lane where the stone croft Kyla shared with her husband was located.
Janet came out as they approached her cottage, and led the way inside to a simple pallet near the fire. "Put her there," she said. "'Tis good that ye brought her here, Anna."
The highlander laid her down, then stood back, his arms crossed over his broad chest.
"Ach, the clarty bastard has beat her again," Janet remarked with a frown, as though 'twas every day that a stranger brought a broken and bleeding young woman to her cottage.
Anna could not help but take note of MacMillan's kindness toward her poor friend. He must have seen Kyla's wobbly approach on the dock and recognized her distress, else he wouldn't have known to move so swiftly. If not for his quick actions, Kyla might have crashed to the wooden decking at the harbor, causing even more injury to herself than Birk had done.
"You are called Anna?" he asked, and Anna nodded. "You know who did this to her?" His tone was gruff and incredulous.
"Her husband," Anna replied. His deep blue eyes captured Anna's full attention. They were rimmed with the blackest, thickest lashes – far too beautiful for a man. But Anna sensed a wariness in those eyes, as though he trusted no one and nothing.
Good, she thought. Then he would not be taken unawares by the leeches up at the keep. Anna's stepfather was a useless drunkard, and Catriona was the vilest woman on the isle.
Anna could not understand what the appeal of Kilgorra could possibly be to a braw fellow like this warrior from the mainland. Who would ever choose to stay here?
"Lachann." One of MacMillan's men stepped into Janet's cottage and placed Anna's basket of forgotten berries on a table. "I'm sure they took note of our approach into the harbor up at the castle. Laird MacDuffie will be expecting us."
"Aye," MacMillan replied. He wasted no further time in Janet's cottage but turned quickly and made his exit.
And somehow, Anna found her breath again.
Return to The Highlander's Desire